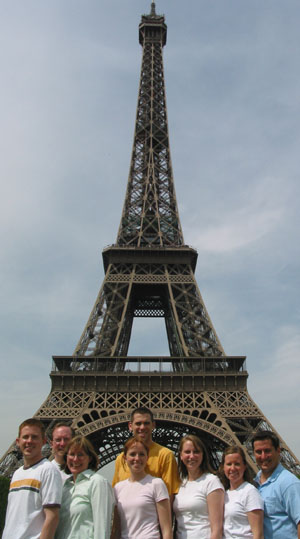 Marquardson Family
Paris May 2005- yeah a little old, but we like this picture - since then it has been family trips to northern Europe and Alaska. Here are some references and information about our family.
We attend the Newport Ward of the LDS church. We have done a lot of genealogy (here are our family genealogy test pages for our McPherson ancestors), and have discovered that our 29th great grandfather was Edward II, King of England, our 59th grandfather was Heinrich, Emperor of the Holy Roman Empire. So why aren't we famous, too? Life is unfair. Use this link to send family email to all of us at the same time (the server will track us all down wherever we are).
---
Jeanie works in admitting at Overlake Hospital. She previously taught aerobics for years at the Newport Hills YMCA, has volunteered at Newport High School, worked all the PTA's, runs the household, recycles, quilts, knits, mulches, bakes pies, makes jam, cans fruit, and grows the sweat peas and rose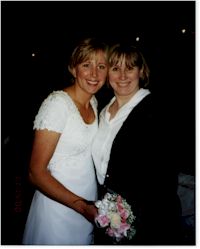 s in the garden. Try her email - jeanie-at-marquardson.com. Jeanie is past president of the women's organization of our church, and now she runs the church's area genealogy family history center. When the kids got straight A's, they were just copying their mom. The sign in our kitchen says Martha Stewart doesn't live here...but sometimes we are not so sure. She had fun the other summer when she, Carrie, and Katie traveled through England, France, Germany, Switzerland, Austria and Italy. Last Spring it was back to Europe, and another quick trip to Germany in December 2005
we think Jeanie knit this sweater she is wearing in front of her high school in Moraga, California, where she was a cheerleader a couple of years ago. (photo by Carrie). right, Jeanie at her sister, Diane's wedding, November, 2000.